Happy Independence Day and Thank you to all the citizens of this great nation for making it what it is....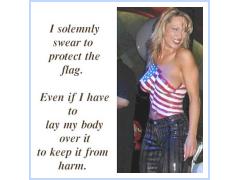 This image will be up until July 4th at 11:59 PM. Please scroll down for new material. Oh, and a quick PSA sparkler sparks do not work well to light cigarettes. Believe me I know, 1st hand.
UPDATE: More here, here, here, here and here. Of course here too.... Of course we can't forget these quotes that the always prolific Jeralyn Merritt put up for our viewing pleasure. Yellow Dog Blog's 4th of July greetings.
UPDATE 2:
Please go offer An American Housewife your thoughts and prayers. She lost her husband fighting in the war.
UPDATE 3:
Funny photoshop
UPDATE 4: Via A Swift Kick and a Bandaid

You Are 59% American
Most times you are proud to be an American. Though sometimes the good ole US of A makes you cringe Still, you know there's no place better suited to be your home. You love your freedom and no one's going to take it away from you!
UPDATE 5: If you put up a post commemorating Independence Day leave a comment or a trackback and I will link you.
Posted by Jess at July 4, 2005 11:59 PM | TrackBack