In a Land That Knows No Partin'... Blue Eyes Crying in the Rain...
It was one of those hot, silent nights, when people sit at windows listening for the thunder which they know will shortly break; when they recall dismal tales of hurricanes and earthquakes; and of lonely travellers on open plains, and lonely ships at sea, struck by lightning.<
Charles Dickens - From Martin Chuzzlewit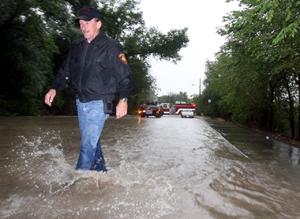 From the Daily Times
Farmington had mega problems, the only thing in the county is what we're fighting right now (is the bridge which collapsed on La Plate Highway)," said Don Cooper, San Juan County emergency manager.
The bridge on La Plata Highway collapsed and washed up and authorities had to divert traffic onto New Mexico 574.
He said it had not rained this heavily in the area for 15 years.
Posted by Jess at July 9, 2006 12:50 PM | TrackBack