I think I am going to have to leave my wife April or May or whatever her name is.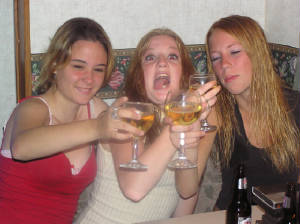 Just for a bit, the intercourse should not take more than 27 seconds. That is my record at least. We have a lot in common, well at least Budweiser.
Here is a link to their website. I went to see my foreman in a trailer park that he lives in. I personally have a house in the hills outside of Corona, CA. My house has a stream running through the back yard. Maybe I could go down and see them for a little threesome plus one action in the trailer park for a little afternoon delight. I'm so horny that I would probably poke a bush if I thought there was a rabbit in it. That whole brokeback mountain thing makes a brother want to poke someone of the opposite sex. I just want to prove my manhood to everyone. God, they make me have carnal thoughts.
Posted by SteveBozell at December 28, 2005 03:53 AM | TrackBack